Before we all say goodbye to 2012, I wanted to share why my family is
(in my opinion) the best family EVAH!
We're just a bunch of photogenic kids. Not creepers at all.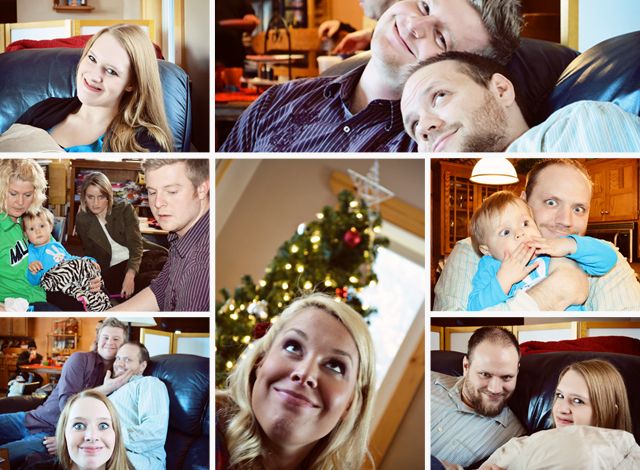 My super crafty cousin made these adorable ornaments for everyone.
Handmade gifts for everyone!
To my brother: Clockwork Orange painting
To my (future) brother in law: bible verse wall art
To my sister: dance quote t-shirt
To my dad: license plate art
To my mom: "Grandma's Sweet Treats" jar
To my sistah from another mistah: Crocheted ear warmer
(which I stupidly don't have a photo of)
Bean was attached to my mom (as usual)
I'm chopped liver when Grandma is around.
As per tradition, my brother was the fondue chef. This year was a little bittersweet as he is (literally as I'm typing this) moving down south :(
These next photos are why I'm firing my husband from photo taking.
And also further argument for why I need a new, more awesome lens.
This is all I had to work with to document my handmade gifts to my:
sister (crocheted boot cuffs and handmade woven bracelets)
mother (crocheted slouch hat)
and father in law (homemade barbecue rubs)
Bean was all about the "kitties" (otherwise known as squirrels)
Since she has mastered the word, any animal she sees is a "kitty"
Hope y'all (sometimes I like to pretend I don't have a terrible Minnesotan accent)
had a great Christmas, see you in 2013 :)